Spider Vein Treatment
Sclerotherapy & Laser.
Using minimally invasive injections, Sclerotherapy or laser techniques, we can remove spider veins to have you looking your best again.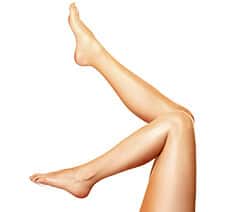 The non-invasive laser treatment of unsightly leg veins is one of the most requested aesthetic procedures. Using the principle of selective photothermolysis, these vessels can be selectively heated and collapsed without damaging the surrounding healthy tissue.
Sclerotherapy is a common form of treatment for spider veins of the legs, varicose veins and ugly veins of the hands. It is an in-office procedure that consists of injecting a small volume of a liquid into the diseased vein with a very small needle.The sclerosing agent acts upon the lining of the vein to cause it toseal shut, eliminating the vein completely.
Sclerotherapy available upon Consult.